La Galerie d'art Stewart Hall, Centre culturel de Pointe- Claire, Quebec In the Garden of Eden: Socially-Relevant Aesthetics,  "Epic theater, therefore, does not reproduce situations; rather, it discovers them." — Walter Benjamin, The Author as Producer, 1934.
"In a new exhibition at Stewart Hall, Kathryn Lipke Vigesaa, deconstructs our complex relationships to the garden.
"My use of the art term "installation" does not do justice to the artworks contained within; nor do "room" or "gallery." I want to suggest the use of a more descriptive metaphor. Lipke has in the manner of a film director created "theatres," in which we enter, with multiple works of art arranged as montage. These theatres of montage can be read as one would a palimpsest. Lipke's theatres direct our attention back to nature. Yet her clarion call is coupled with a rejoinder regarding the complexities of managing our finite resources. Lipke has written that "art can bind the separate views of science and culture to formulate another way of picturing the environment." Art can bring us to the point of recognition, to that very moment in experience where we reconnect. As Lipke's work subtly reminds us, our first identity is nature, or the realm of the natural, unmediated world."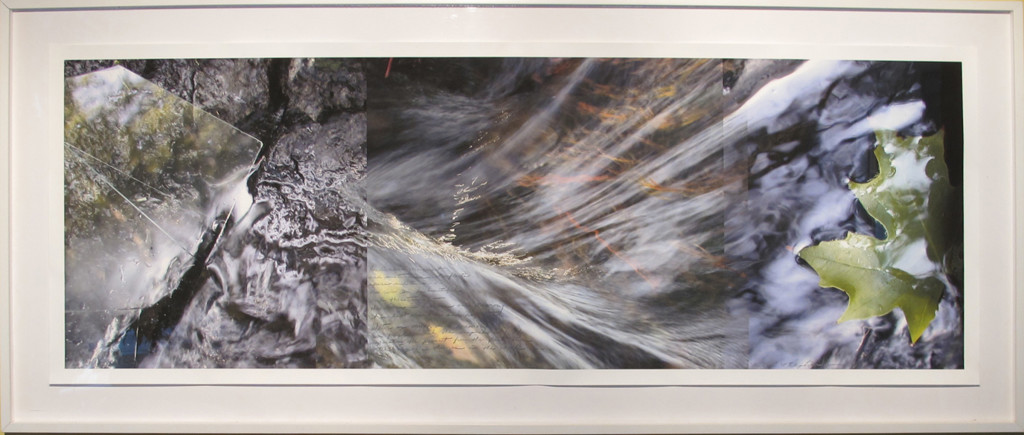 Garden 1 – Water: Memory & Myth:       "Garden 1 exemplifies the cycle of life. A vessel made of saplings suggests youth and fragility embarking on life's journey. The pool with pearls flowing in and out of it portrays the dialectic essence of all things: life and death. Yet, it is the theatre's three videos that preside with their graphic cinematography and stories of passage. The textuality of the video Water: Memory & Myth is so resonant that its images and sounds will continually unfold for viewers. The five-and-a-half minute video is survey of the many forms of water: flowing, quiescent, or sculptural. At the heart of this intimate video is a spiritual bond. Woman serves nature as guardian, seer, and joyous celebrant. Lipke deftly edited the video as its end flows seamlessly back into the beginning echoing the endless flow of nature itself. Contemplative original music by Mike Bernal compliments the video's serenity. This is the garden of Eve".
Garden 2 – Force of Nature:         "In Garden 2, we find the paradoxical essence of the garden: the free and flowing life-energies of plants controlled by humans."
Garden 3 – Connections | Disconnections:        "The visual simplicity in Garden 3 belies its conceptual complexities. The two hanging funnel sculptures of Sightlines underline the importance of vision and ironically, our own myopia. Depending on which "telescope" we look into, we see either a dancer in a garden of full of color and beauty, or a dancer in a garden fading into the landscape. The video "Caress" with a dancer in white symbolizes what our interaction with nature might be, a caress. Lipke offered one reading of the work as "representing the fragility of our eco system."
click     Caress     to view the video
Garden 4, Dis-placed In Garden :         "Lipke calls our attention to the realm of science, which again points to Lipke's interest in emphasizing that things are never just black and white and should never be taken for granted. Science can be salvation and destruction. Lipke has written that Dis-placed "addresses the mistakes in connection with our environment that potentially could topple the planet."  text edited from catalog, "In Search of the Garden of Eden" by Rusty Freeman is the Director of Visual Arts, Cedarhurst Center for the Arts, Mt. Vernon, Illinois, USA.